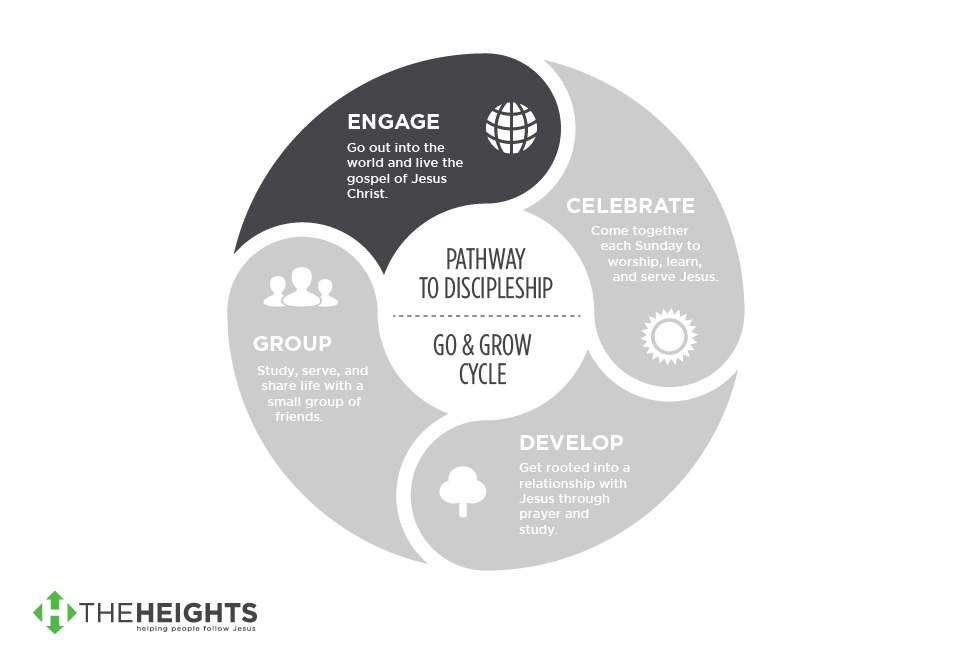 Engage Community- Go teams
Wheel Champion:
Mission Team-
Local Missions-
Community Involvment-
The engage part of the wheel is as you guessed it "Going." We believe that God has called us to be intimately involved in the community we find ourselves. We believe there are a lot of lost people out there that are missing something that we have. This friendship with the Father, Jesus, and His Spirit. And just as this friendship was freely given to us, without an agenda, without force, but with love, joy, peace, patience, kindness goodness, faithfulness, gentleness, and self-control, we eagerly share the message of this friendship (that is presented to all without conditions) in the same way.
Application Point: There are people in your community, at your office, in your home who are walking around lost. On the outside they may seem like they have it all together or they may look like they are down in the dumps, but on the inside they have an emptiness that many times they don't want to think about or admit they have. They try to fill the emptiness they feel with lots of things — some of them harmful. It's easy to see them as suffering the consequences of their behaviors but we believe that God has sent us to those around us to introduce them to the only One who can meet their ultimate needs.
We strive to be intimately involved with our community. Impacting others starts with stepping outside our front doors and meeting our neighbors; being involved with community events such as: Annual Easter Egg Hunt, Trunk or Treat, the Annual Airway Heights Festival, and many more. Going outside our own walls and bridging relationships with neighbors, store clerks, co-workers, family, or anyone you come into contact with. Christ calls us to go into all nations, which includes our own backyards. We desire to be a 'Go & Do' church rather than only a 'Come & See' church. Check out our calandar for current events in community.